---
---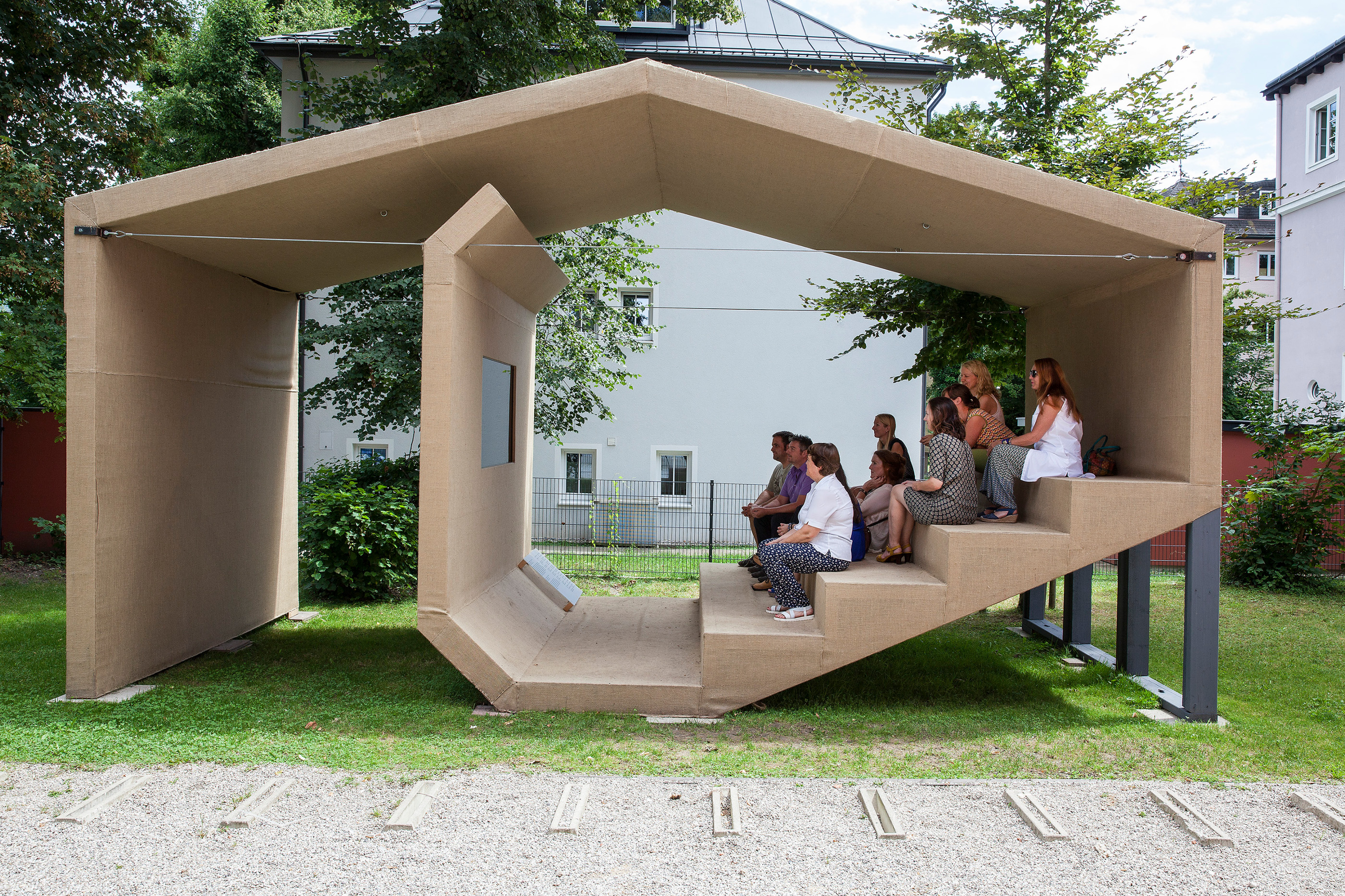 23.07.2016 - 11.09.2016
The People's Cinema
The People's Cinema ist eine Ausstellung und ein Filmprojekt mit über sechzig internationalen Teilnehmer_innen. Dieses Projekt präsentiert in den Räumen des Salzburger Kunstvereins eine kollektive Phantasmagorie, deren Trugbilder um Fantasie und Begehren kreisen.

Von der Entstehung des Kinos hin zu seinen vielen Spielarten, die sich im Lauf des vergangenen Jahrhunderts entwickelt haben und seinem aktuellen, allgegenwärtigen Status; hin zu persönlicheren Formen von Video oder Avantgarde-Film, der digitalen Revolution und Online-Streaming... bietet
sich Künstler_innen ein endloses Tableau von Bildern und Assoziationen für ihre Arbeiten.

Wir nennen es The People's Cinema.
An diesem Projekt sind Künstler_innen beteiligt, die mit dieser riesigen Materialmenge arbeiten und Kunstwerke produzieren, die sich der Traumwelt der bewegten Bilder bedienen. Dort, wo das Kino normalerweise Objekte und die Welt abbildet, können auch Objekte aus einem Film hervorgehen – oszillierend zwischen Vorstellung, Erinnerung, Begehren, Körperlichkeit und Kinoapparaturen. Dem Raum des Kinos und der Menge an Assoziationen, die es hervorruft, entspringen neue verlockende Bilder im Bannkreis von Empfindungen, die unsere Begierden anfachen und neue Begehrlichkeiten wecken. Man könnte sich vorstellen, dass das dem Bild entspringende Objekt wiederum selbst einen Traum enthält. Lässt man sich in dieses Objekt, in sein vollreifes und dunkles Innenleben hineinfallen, findet man dort vielleicht eine weitere Leinwand vor, auf der bekannte und unbekannte Formen abgebildet sind.
Bilder, Ideen, Wahn und Träume sowie das Leben selbst verschmelzen zu einer Einheit.

Ausstellung: Fünfzehn zeitgenössische Künstler_innen zeigen Arbeiten, die sich mit Kino, Verlangen, Fantasie und Identität beschäftigen.
Künstler_innen: Martin Arnold (AT), Olga Chernysheva (RU), Alexandre Estrela (PT), Beatrice Gibson (UK), Manuel Graf (DE), Tamara Henderson (CA), Camille Henrot (FR), Erika Hock (DE), Jesper Just (DK/US), Sung Hwan Kim (KR/US), Shana Moulton (US), Elizabeth Price (UK), Laure Prouvost (FR/BE), Peter Tscherkassky (AT), Anna Witt (DE/AT)

Kinopavillons: Zwei Pavillons befinden sich im Großen Saal. Der Dritte, entworfen von der deutschen Künstlerin Erika Hock, ist im Freien neben dem Künstlerhaus platziert.

Jeder Pavillon zeigt eine Montage von Filmausschnitten, die von internationalen Künstler_innen, Filmemacher_innen, Autor_innen und Kurator_innen ausgewählt wurden. Die Teilnehmer_innen haben Szenen zu den Themen "Straße nach Damaskus", "Ewige Wiederkehr" und "Objekt" gewählt.

Teilnehmer_innen: Gabriel Abrantes (US/PT), John Akomfrah (GH/UK), Roy Arden (CA), Martin Arnold (AT), Skip Arnold (US), Miroslaw Balka (PL), Pierre Bismuth (FR/BE), Kent Chan (SG/NL), Olga Chernysheva (RU), Jem Cohen (US), Ricardo Cuevas (MX), Keren Cytter (IL/US), Dina Danish (EG/NL), Distruktur (BR/DE), Köken Ergun (TR), Ruth Ewan (UK), VALIE EXPORT (AT), Marina Faust (AT), Aurélien Froment (FR/IE), Ya-Wen Fu (TW/DE), José Fidel García Valenzuela (CU), John Gerrard (IE/AT), Manuel Graf (DE), Andreas Greiner (DE), Johan Grimonprez (BE/US), Igor Grubić (HR), Jennifer Higgie (AU/UK), C.T. Jasper (PL/US), Valérie Jouve (FR), Jelena Juresa (RS/BE), Sung Hwan Kim (KR/US), Salomé Lamas (PT), Maha Maamoun (EG), Babette Mangolte (FR/US), Shana Moulton (US), Xue Mu (CN/NL), Sophie Nys (BE/CH), Falke Pisano (NL/DE), Laure Prouvost (FR/BE),
Anja Ronacher (AT), Margaret Salmon (US/UK), Jaanus Samma (EE), Libby Scarlett (UK), Nora Schultz (DE), Iain Sinclair (UK), Michael Snow (CA), Rania Stephan (LB), Hito Steyerl (DE), Corin Sworn (UK), Peter Tscherkassky (AT), Emily Wardill (UK/PT), Anna Witt (DE/AT)

Kurator_innen: Séamus Kealy und Vaari Claffey, Kuratorin (IE)

Filmbibliothek: Ausgewählte Filme können während der Öffnungszeiten im Shop ausgeliehen werden.

Gefördert und Teil von Salzburg 20!6.